Download Cudo Miner from its website. To setup Cudo Miner application and get started, sign up with your google account to install the software. Once done, connect your device from the home page and start mining your favorite cryptocurrency.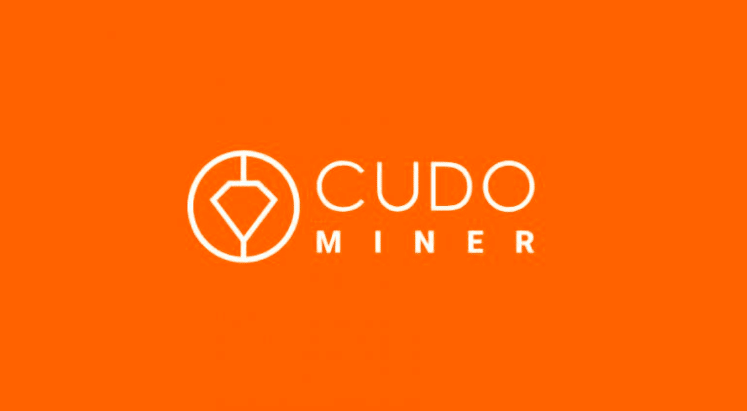 Have you recently decided to mine cryptocurrency? Are you confused about which mining software you should use to get started? Whether you choose to mine Bitcoin, Ethereum, or any other cryptocurrency. You should have efficient mining software that can offer real-time monitoring access and help you track the performance of your mining rigs.
Since there is a lot of software available online, it can be difficult to decide which one to use. It's important that you choose one of those mining softwares that gives you maximum performance, charges less fee, and has a user-friendly interface. One such tool used for cryptocurrency mining is Cudo Miner.
For anyone interested in mining, Cudo Miner can be a great option. Today, we will explore how you can install this tool and configure its settings on your mining rigs. So, without any delay, let's jump into the topic.
Is Cudo Miner Good For Mining?
First things first, you might wonder if Cudo Miner is a good platform for mining. This tool has received positive reviews and encouragement from users around the world. Thanks to its efficient mining performance, ease of use, and wide range of support for all cryptocurrencies.
Whether it is good for mining and can increase your profitability depends on a number of factors. Such as the type of cryptocurrency you are looking to mine and the mining hardware you use. In general, considering all the features that Cudo Miner offers, it is a great tool for crypto mining.
Your step-by-step guide on installing and setting up Cudo Miner
Cudo Miner is user-friendly and a versatile option for mining on a PC. It can help you earn virtual currency in a quick and efficient manner. In this guide, we will take you through a series of steps that entails how you can set up Cudo Miner, from downloading and installing the software to configuring it for maximum performance.
It's important that you follow each instruction carefully to save yourself from any potential problem. So, without wasting a second, let us start setting up your favorite tool.
1. Download and Install
If you have not already installed Cudo Miner, head to this link and click Sign Up and Download.
Log in with Google or your Microsoft Account.
Or, if you already have an account created, select Sign in with email and enter your credentials in the white box. Once you sign up, go to your Inbox and confirm the account by clicking on the verification email.
Now you can easily download this software on any of your desired devices.
2. Setting Up
Click Get started connect any device that you want to use for mining.
Hit Setup A Device to connect your desired device with Cudo Miner.
To setup a device, choose the operating system you want to connect Cudo Miner with. Then, copy the clipboard code on the app to successfully sync it with the console.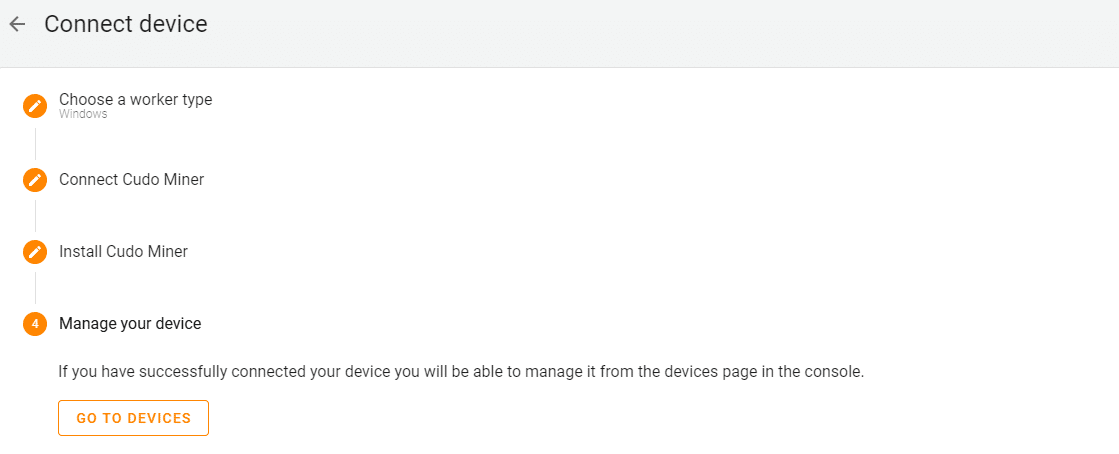 Once your app is in sync, you can view the dashboard that provides the most updated information from your mining rigs.
Note that this is a cloud based software, and you can easily access it from anywhere remotely.
3. Payment Settings
The default payment for Cudo Miner is Cudos, but you can always change it from the settings. This platform offers a range of exchange options, such as BTC, Ethereum, Monero, etc.
4. Transactions and Wallet
To add a new wallet, go to finances on the home screen and click wallets. Then, tap on the yellow button that says Add A Wallet. This will allow you to add a withdrawal wallet address for any balance that is available in your account.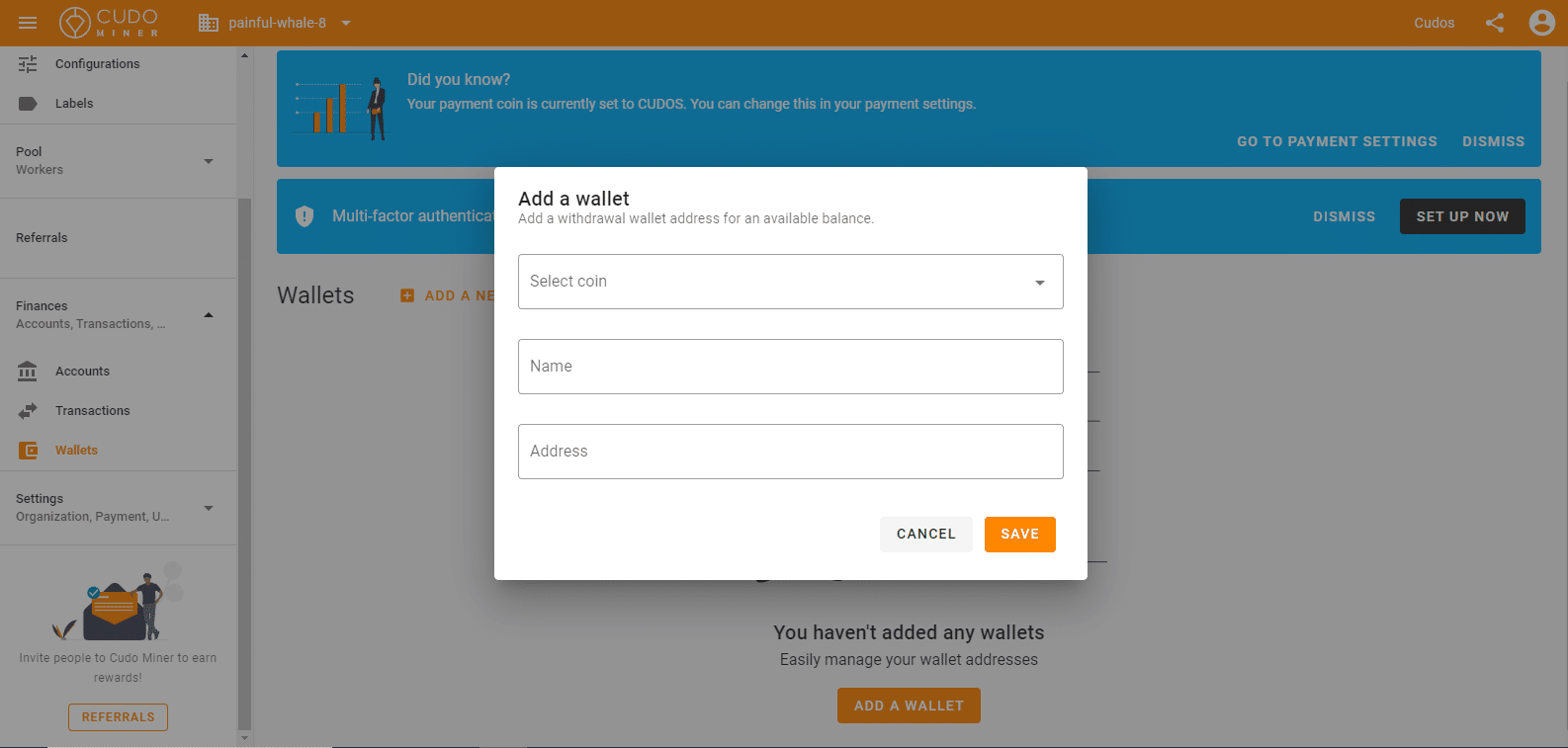 5. Keeping your Account secure
To ensure you're safe, Cudo Miner offers Multi-factor authentication to give an extra layer of security to your account. For this, go to your home screen and click the black button Set Up Now.
You can enable the Authenticator app to receive two-factor authentication or generate Backup codes that allow you to sign in to your account when you are away from your phone.
Keep the codes safe. If they are lost, you won't be able to access and withdraw anything from your account.
Pricing and Fees for the Cudo Miner
Cudo Miner do not charge any subscription fees. They make their money based on the cryptocurrency being mined. So, in short, the higher your payout is, the less fee you have to pay. The good news is there are withdrawal fees. For a comprehensive look at the pricing, see the table below.
| Category | BTC Amount | Percentage Fees (%) |
| --- | --- | --- |
| Diamond | Greater than or equal to 10 BTC | 1.5% |
| Iridium | Greater than or equal to 1 BTC | 2% |
| Palladium | Greater than or equal to 0.1 BTC | 2.5% |
| Platinum | Greater than or equal to 0.05 BTC | 3% |
| Gold | Greater than or equal to 0.01 BTC | 4% |
| Silver | Greater than or equal to 0.005 BTC | 5% |
| Bronze | Less than 0.005 BTC | 6.5% |
Conclusion
This was all about setting up Cudo Miner and how to use it before you start mining profits. It doesn't matter if you are a seasonal or professional miner. The user interface of the app is very intuitive and helps you mine cryptocurrencies easily. So, what are you waiting for? Install this app today and start making some profits.