To clean your CPU fan, first turn off and unplug your computer. Then, open the case and carefully remove the fan from motherboard. Use compressed vacuum air or a soft brush to remove dust and debris from the fan blades and surrounding area. Finally, reattach the fan and close the case
Keeping your CPU fan clean is essential for ensuring your computer runs smoothly and efficiently. A dirty fan can make your computer overheat and cause components to malfunction.
Fortunately, with a few simple steps, you can quickly and easily clean your CPU fan. In this blog post, I will show you how to clean your CPU fan in 5 easy steps. With the right tools and a bit of patience, you can have your CPU fan running like new again in no time.
So let's get started!
1) Unplug Your Computer
Before you begin cleaning your CPU fan, it is essential to unplug your computer or PC from the power supply to prevent any damage. Once you have unplugged your computer, you can move on to the next step of cleaning the fan blades.
Related Reading:
2) Remove the CPU fan
After unplugging your PC, now you will then need to locate the fan inside your computer. It is usually located near the power supply or the CPU cooler. After you have found the fan, carefully remove it from the case. Be sure to handle the fan with care and avoid touching the blades with your fingers, as this could cause damage to the fan.
3) Clean The CPU Fan Blades With A Soft Cloth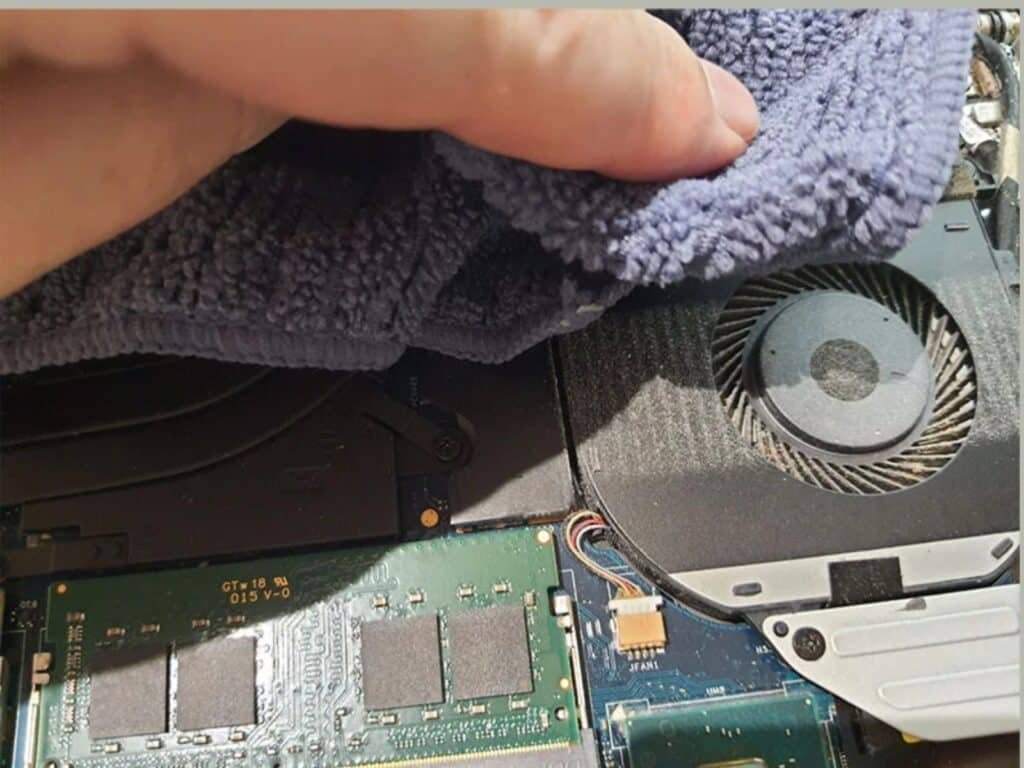 Before using canned air or isopropyl alcohol, you should use a soft cloth to remove the dust and dirt from your CPU fan blades. To do this, simply detach the fan from the power supply, heat sink or CPU cooler. Gently wipe each of the PC fan blades with a damp cloth, taking care not to damage your computer.
This step will help you remove the dust and dirt that can be difficult to reach with compressed air or isopropyl alcohol. After cleaning the fan blades, use a cotton swab to clean the corners of the fan. Now you are ready to follow the next steps on how to clean the CPU fan.
4) Use Compressed Air To Remove Dust From CPU Cooler
If your fan is particularly dusty or clogged, use compressed air to blast the dust and dirt away. Make sure to keep the air compressor at least 10 inches away from the fan and its blades. Direct contact with the air compressor can cause damage to the fan blades and other components of your computer.
If necessary, you can use a cotton swab or isopropyl alcohol to clean your pc fans blades after removing the dust. Following these steps on how to clean your CPU fan and cooler will help ensure that your computer runs efficiently and stays in good condition for years to come.
Related Reading:
5) Reattach the CPU Fan
Now that you've cleaned the fan blades and removed all the dust, it's time to reattach the CPU fan. Start by plugging your power supply back in. Then, take your compressed air and blow off any remaining dust and dirt from the computer case fan.
You can also use a cotton swab with isopropyl alcohol to get rid of any stubborn dirt particles. Once everything is clean, attach the fan back onto the CPU cooler or heat sink. Be sure to connect any cables securely. After this, you can turn on your computer and you're done!
Following these steps on how to clean PC CPU fan will ensure your PC is working correctly without any dust or dirt damaging your computer.