Download this file hidusbf from this website. Extract the downloaded file and open Setup.exe. Connect your controller and set the devices to All in the tool. Find your desired device from the list and click Install Service. Set Selected Rate to 1000 and check mark Filter on Device to overclock your controller on PC.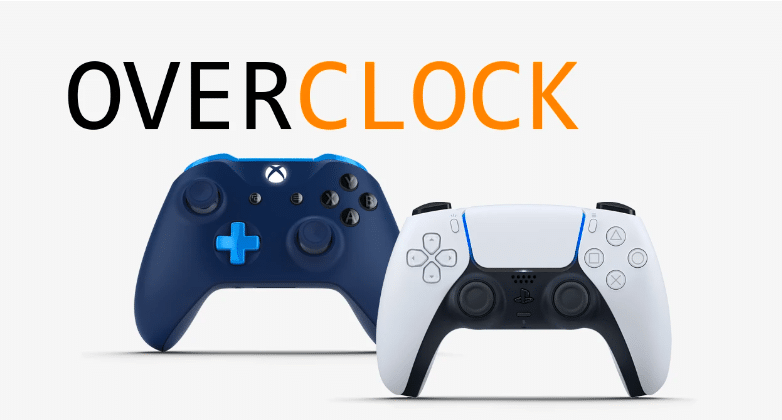 Competition in gaming has become intense nowadays. Every player wants to get the upper hand over their competitors. A split-second delay can bring you to the verge of defeat. So, how do you increase your performance during gameplay? Is there any way you can act faster and react more quickly than your opponent?
The answer is Yes. Overclocking your controller can help you achieve extra performance during gameplay. But how do you do it? Is it safe to overclock your controller?
In this article, we will explore how you can overclock your controller on a PC for gaming and many other things. So, let's check them out.
Related Reading:
Advantages of Overclocking the Controller
Overclocking your controller brings a lot of advantages, including increased performance during gameplay. It also provides an added benefit over other players. But, the major advantage of overclocking is the quick response time and less input lag.
Most controllers usually take 5 milliseconds to feed the input inside the game. However, in an intense gaming session, each part of a second matters the most. By overclocking, you can reduce the response time to 1 millisecond. This can turn out to be in your favor, especially when you are playing First Person Shooter Video Games.
In fighting games, it's important that you act before your opponent can land an attack. If you are using an overclock controller, it can really make a decisive difference between winning and losing.
How to Overclock Your Controller on a PC?
The arrival of new games on pc has attracted many players around the world, including the ones who used to play on gaming consoles such as Xbox, PS4, and PS5. The reason is a pc gives an extra benefit during gameplay, including an increased Frames Per Rate, Graphical customization, and many other features that are only limited to PC.
So, if you are one of these players or even the one who loves playing games on a controller, then stick with us till the end. The following steps will teach how you can overclock the controller on pc:
Open this link, https://github.com/LordOfMice/hidusbf, and click on the file named hidusbf.
On the new window, click download and wait for the file to download.

After the download is complete, open the file in your file explorer.
Extract all the files to a separate folder in your desired location.
Connect your controller via a USB port. Wait for Windows to detect and install its default software.
Now, go to the location and select the Driver folder. From there, open the file called Setup.exe.
When you open this tool, the default device type will be set to Mice. Click on the arrow, and from the drop-down menu, choose All.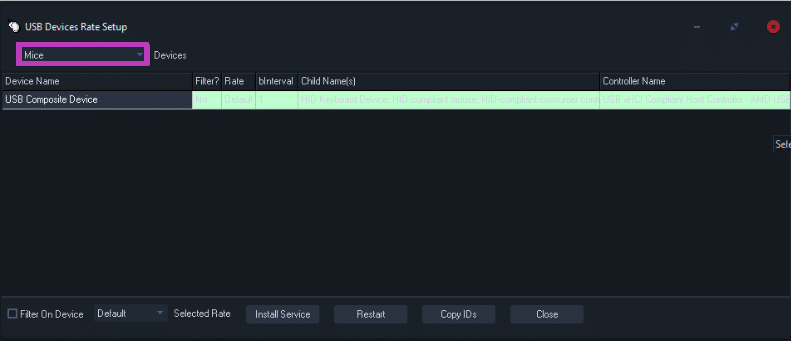 You will see a list of devices connected to your computer. Identify the controller from the devices you want to overclock.

Once you select your desired device, click the Install Service tab at the bottom of the window.

With your selected device. Set Selected Rate to 1000, then click Install Service again.
Check Mark Filter on Device and once again click Install Service.

Now, disconnect your controller from the PC and wait for a few minutes before plugging it in again.
When you connect the controller again, the boxes should read Yes, 1000, and 1.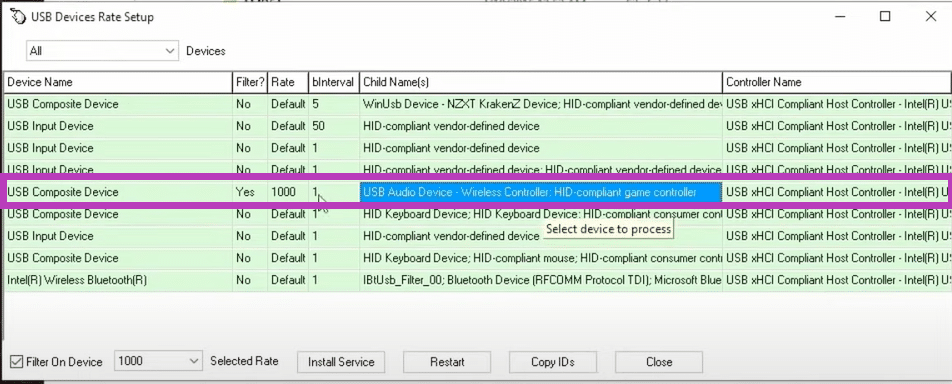 If your screen reads the same number, you have overclocked your controller.
If you would like to revert the overclock. Make sure that you uncheck the Filter on Device and set the selected rate to Default. Unplug the controller from the pc and connect it again to see if bInternval is at 5 and the settings are at default. If yes, then you have returned back to normal settings.
Related Reading:
Disadvantages of Overclocking the Controller:
Many people think overclocking the controller will damage the health of the GPU or decrease the life of their controller. However, in reality, it doesn't. The only setback you will experience is if you take part in any competition and overclocking is not allowed. You will need to play with the default settings. This can affect your gaming performance since you are not used to playing with default settings. This is something you should not worry about if you are good at playing.
Final Thoughts
Once you have overclocked your controller, you can enjoy your favorite games and take advantage of less input lag and faster response time. As long as the program is on your computer, you do not need to go through these steps again and again. However, if you notice any anomaly, make sure to check if the tool is running smoothly.