If you are looking to get the best power supply unit for mining, then consider buying any of the following to build your mining rig:
GPU mining is widely performed nowadays, thanks to the growing popularity of cryptocurrencies all around the world. Cryptocurrencies like Bitcoin, Ethereum, Tether, and Litecoin are in high demand, which makes it difficult for miners to get the block reward.
To achieve success and get an edge over others. It's important to have a powerful computer that can do complex calculations in a matter of a few minutes. The process of GPU mining needs high power. Thus, a reliable Power Supply Unit (PSU) is key to providing stable voltage and meeting the power requirements.
But the question is, how exactly do you choose a Power Supply Unit for your mining rigs? Which factors should you consider before buying one? What are the top 5 PSUs for GPU mining rigs?
To provide a better understanding, let's explore some best power supply for mining and things you need to consider before getting one:
Important Things to Consider Before Buying a PSU for Mining
The following are the factors that you should look out for before buying any PSU for GPU mining. This will help you determine whether they are good for mining and if it's really worth investing in them.
Power Output: The power consumption of mining rigs is high. So you would need a PSU that can provide enough power to run the machines at their maximum level. The minimum wattage of your Power Supply Unit should be around 650 watts and can go up to 1500w based on the build of your system.
Efficiency: The chosen power supply for mining cryptocurrency should be efficient. This means that your PSU should be capable of converting a high percentage of input power into usable power for mining rigs. This will help you to save electricity costs and increase the lifespan of your PSU. The best PSUs for mining are the ones that have at least an 80-plus rating. This indicates that the hardware is 80% efficient.
Reliability: The PSU that can handle continuous mining is the one you should look to get. The best PSUs are the ones that are reliable and can meet the mining demands. Some of them come up with a 10-year warranty, so if anything malfunctions, you can always get it repaired without spending a penny.
Rating: The rating denotes the efficiency and the quality of wires used in the PSU. If you are planning to get the best PSU for mining, choose the one that has 80-plus gold certification. But, if you want to maximize efficiency, get your hands on the one that lies in the platinum and diamond categories.
Connectors: Every PSU comes up with PCIe cables to which you can connect your GPU. As a miner, you should aim for a PSU that offers the most numbers of connecting options. In this way, you will be able to connect more GPUs. Based on the number of graphics cards you have, you can select single 8 pins, dual 8 pins, and 8 + 6 pins connectors to plug GPUs and risers.
Fully Modular: There are multiple variations of PSUs available online. But, one of the best PSUs for cryptocurrency mining are those that are fully modular. In these PSUs, you have a choice to disconnect PCIe cables and use them for other components. This will help you avoid cables getting rolled up with each other around the motherboard.
The Best Power Supplies for Mining Cryptocurrency
When choosing a Power Supply Unit for a mining operation, make sure they come up with Japanese capacitors and have been tested and certified to provide clean and stable power. The following are the best mining PSU that meet these requirements and can provide more than enough power to run your mining rigs.
The Corsair RM1000x is a high-end power supply that provides a power output of 1000 watts. It comes up with an efficiency rating of 80 plus gold and offers a modular design that allows smooth airflow inside the CPU. With a price tag of around $200 and a 7-year warranty, you can sit with peace and enjoy your mining.
The EVGA SuperNOVA 1600 T2 is one of its kind and can run powerful mining rigs. It has an efficiency rating of 80+ Titanium and delivers up to 94% efficiency. A fully modular design helps to avoid case clutter, resulting in improved airflow. With low maintenance costs and a 10-year warranty, this power supply can easily meet your mining needs for years to come.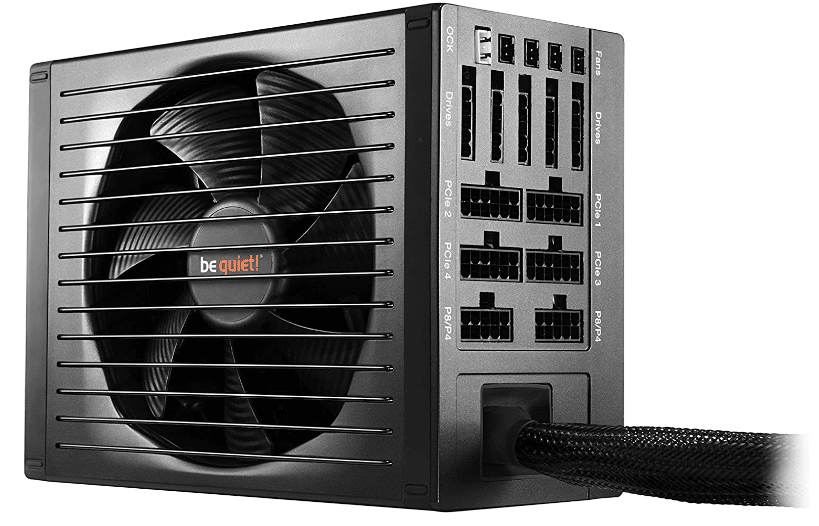 The Be Quiet! Dark Power Pro series offers a wattage capacity from 650W to 1500W. This is more than enough to support any mining rig. This machine comes up with an efficiency rating of 80 plus platinum that can convert most of its power to run mining rigs.
The massive funnel-like fans ensure smooth airflow to prevent any overheating issues. The Dark Power Pro also has Japanese capacitors that can resist a temperature of 105C, which ensures for unwavering power and reliability.
Based on the modular design, the Seasonic Focus 650 Platinum offers 650W of power that helps to maintain its efficiency. Backed by a 10-year warranty, Seasonic Focus 650 Platinum is only a one-time investment and comes at around $200. Due to its in-built features, this PSU stays really cool while operating without making much noise.
The Fractal Design Ion+ 560W Platinum gives an amazing performance, works silently with high efficiency. It offers four PCI-e connectors that can connect two graphics cards with double PCI-e sockets. This PSU has a 10-year warranty, a modular design, and ultra-flexible cables that allow smooth handling.
It cost around $150. So, if you are tight on budget, Fractal Design Ion+ 560W Platinum should be the ultimate choice for you.
Final Thoughts
Now that you know the best mining power supply unit, it's time that you get your hands on one of them. But make sure that you don't spend too much on it. There are lots of other factors that you should consider which play an equal role in GPU mining. Be wise and manage your money accordingly.