Go to device manager, select display adapters, and choose your desired driver. Right-click on the driver and select update driver. Allow Windows to search for the drivers. Wait until your system downloads and install the drivers.
Are you experiencing low-quality display, especially when you play games or while you work on graphic-sensitive software?
Chances are that your gpu driver has become outdated, and it's time to update it.
Even though your computer would work fine without the latest drivers. But, what's the point of running it when you can't enjoy it?
Fortunately, there are multiple ways to update your graphics driver in windows. It is free and easy to do. So, stick with us till the end as we tell you how you can upgrade your graphic drivers.
How To Update Graphic Cards Manually?
Out of the many ways, you can update your gpu driver manually, too.
Only follow this method if you have prior experience and knowledge of updating software.
Step 01: Identify Your Graphic Card Information
Before you download and update your latest driver, it's essential to know which graphic card is running on your system, i.e., NVIDIA, AMD, or Intel.
Click on the search bar at the corner of your screen and type dxdiag.
Click on the logo, painted with blue and yellow color.
Head to display from the top section and search for the name of your graphic card.
Related Reading
Step 02: Open Device Manager:
Device Manager is a program or tool offered by Windows to manage hardware and other components installed on your system.
Gpu can be easily updated through Device Manager. Here's how you can install the latest version of it.
Press Windows+R to initiate the run command.
In the box, type devmgmt.msc and press enter.
Step 03: Update Drivers Through Device Manager
Once you see the device manager window, expand display adapters from the list.
Select your desired driver from the list and click update driver.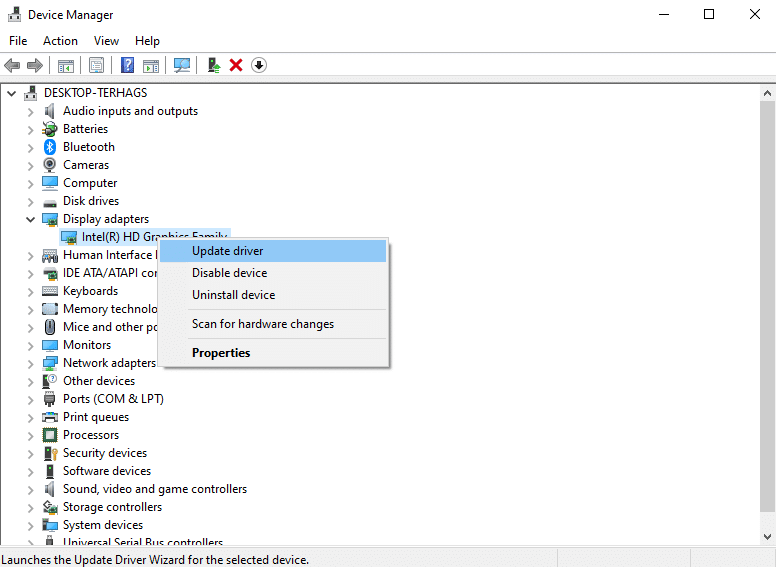 The windows will propose two options, to update it automatically or manually.
Press Search automatically for drivers to allow windows to scan for driver updates. If they are available, windows will download and install them.
You are now running latest version of your graphic card.
Related Reading: Will Graphic Card Work Without Drivers?
How To Update Graphic Cards Automatically?
If you are not tech-savvy and want to save time in finding the right set of drivers for your graphic card. Then, I would highly recommend you to update drivers automatically.
Windows update is a tool available for both Windows 7 and 10. Unfortunately, it does not always install the latest drivers. However, they are sufficient enough to help your computer display quality graphics.
The drivers from the windows are fine-tuned and certified by Windows Hardware Quality Labs (WHQL).
Follow the procedure below to update the graphics drivers:
For Windows 7:
If you are a user of windows 7, follow this procedure to get the latest updates.
Open control panel from the search bar in the left corner of your screen.
Locate system and security from the menu, and click on check for updates.
The windows will look for the latest drivers and download them, if available.
For Windows 10:
Windows 10 users will have to follow a different procedure than Windows 7.
Go to the search bar and open settings.
Next, select update and security from the menu.
If there are any drivers available, it will notify you.
How To Update A Graphic Driver From The Website?
If you are not aware of technical knowledge related to your graphic hardware. Then, it's highly recommended not to follow this method.
The hardware manufacturer offers latest drivers and softwares for its products on their websites. For this, you should know your graphic card configuration to download drivers that are compatible with it.
You can download graphic card drivers from the following websites:
Download Intel drivers from here
Download AMD drivers from here
Download NVIDIA drivers from here
How frequently should I update my driver?
Before updating any driver, confirm if you have the latest version.
To check which version you are running, go to device manager and verify in driver's tab.
If it is older than two months, check for the latest drivers.
Conclusion
You should update your graphic card drivers regularly to view full resolution and color depths on your system. For example, if you are a gamer or work on graphic-intensive software. A latest graphics drivers allows your operating system to give a smooth performance.
Now that you have learned how to update graphic drivers. Let me know in the comments if you were able to perform this or faced any issues.
Please share it with your friends and family if you found this helpful.